National Millennium Time Capsule
National Medal Winner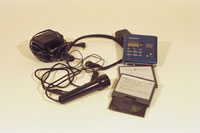 Gambino, Richard J., National Medal of Technology, 1995, National Medal of Science, 1999
Mini-Disk player and two speeches of President Clinton's
"I would like to suggest an artifact that is representative of the high level of technical sophistication that has been achieved in the storage of information in digital form. My colleagues, Dr. Praveen Chaudhari and Dr. Jerome J. Cuomo, and I received the National Medal of technology for the discovery and development of magneto-optical storage media. The music Mini-Disc player is a compact recorder of sound that uses the technology we invented. I recommend that the contents of the National Time Capsule include a Mini-Disc player. I also suggest that a recording be included of President Clinton's speeches from the award ceremonies of the National Medal of Technology and National Medals of Science as a summary of the innovations and scientific achievements he selected for recognition in the last decade of the century."
---
President and First Lady | Vice President and Mrs. Gore
Record of Progress | The Briefing Room
Gateway to Government | Contacting the White House
White House for Kids | White House History
White House Tours | Help | Text Only