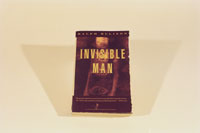 Massachusetts Amherst Regional High School, Amherst
The students from Bruce Penniman's class selected Ralph Ellison's book The Invisible Man to highlight "the struggles and promise of America at the end of the twentieth century." These passages below were highlighted:

The Invisible Man- page 574
"Could he have meant--hell, he must have meant the principle, that we were to affirm the principle on which the country was built and not the men, or at least not the men who did the violence. Did he mean to say "yes" because he knew that the principle was greater than the men, greater than the numbers and the vicious power and all the methods used to corrupt its name? Did he mean to affirm the principle, which they themselves had dreamed into being out of the chaos and darkness of the feudal past, and which they had violated and compromised to the point of absurdity even in their own corrupt minds? Or did he mean that we had to take the responsibility for all of it, for the men as well as the principle, because we were the heirs who must use the principle because no other fitted our needs?"

Page 577
"Whence all this passion toward conformity anyway?--diversity is the word. Let man keep his many parts and you'll have no tyrant states."

Page 577
"America is woven of many strands; I would recognize them and let it so remain. It's 'winner take nothing' that is the great truth of our country or of any country. Life is to be lived, not controlled; and humanity is won by continuing to play in face of certain defeat. Our fate is to become one, and yet many--This is not prophecy, but description."