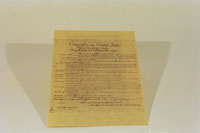 Mitchell, Sen. George J., Presidential Medal of Freedom, 1999
The Bill of Rights
"I'd like to submit something about the Bill of Rights. The premise would be that while much will change in the next millennium I hope that the Bill of Rights will not, so that 100 years from now it will be exactly the same as it is today."

The Bill of Rights is in the permanent collection of the National Archives and Records Administration (NARA). The Time Capsule will be in the care of the NARA.