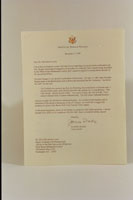 Reagan, President Ronald, Presidential Medal of Freedom, 1993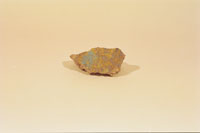 A piece of the Berlin Wall
From Joanne Drake, Chief of Staff, "President Reagan is very pleased to participate in this project. One June 12, 1987 when President Reagan spoke at the Brandenburg Gate in Berlin and demanded that Mr. Gorbachev 'tear down this wall,' he also said: 'As I looked out a moment ago from the Reichstag, that embodiment of German unity, I noticed words crudely spray-painted upon the wall, perhaps by a young Berliner, 'This wall will fall. Beliefs become reality.' Yes, across Europe, this wall will fall. For it cannot withstand faith; it cannot withstand truth. The wall cannot withstand freedom.' And sure enough, the wall did not withstand freedom. As a symbol of that freedom, and in celebration of the spread of democracy in the 20th Century, we would like to suggest the inclusion of a piece of the Berlin Wall in the National Time Capsule."