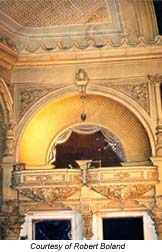 The First Lady will continue her tour in Pittsfield, Massachusetts, where she will visit the Colonial Theater, an ornate structure built in 1903. The Colonial Theater had an outdoor marquee added in 1930's for movies, and since 1950, has had a paint supply store within it purposely constructed in such a way as to not damage the theaters objects and decor. The owner leveled the rake of the orchestra section, but the balcony staircase remains, from which you can see the rest of theater. The Theater still has two balconies, box seats, and a 50 foot high domed ceiling with a mural. Cherub-like figures are designed on the front of the boxes, and the Theater has Roman-style columns and baroque balconies.
Historical Significance: Built in 1903 this theater is one of six or seven best examples of legitimate theater architecture in America and one of 13 or 14 like it in the world. A corporate executive recently noted that the acoustics are on par with just a handful of premier theaters in the world. The acoustic excellence of the Theater offers an opportunity to use it as an income-producing venue for live recordings. Former President William Howard Taft appeared there, as did performers such as John and Ethel Barrymore, Sarah Bernhardt, John Philip Sousa and Rachmaninoff.
Preservation Needs: Most original fixtures still exist but total refurbishment would be needed. The ceiling mural is partially deteriorated. The paint store currently housed in the Theater would be removed and seating returned to orchestra section.