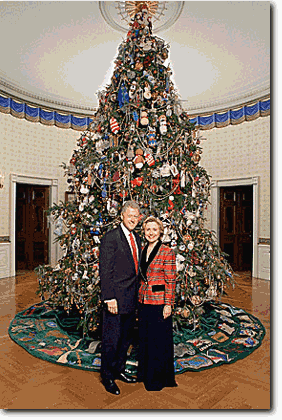 Dear Friends,

It gives us great pleasure to welcome you to the White House.This is the sixth year we have had the honor of spending the holidays in the White House. Each year, we marvel at the beauty of winter in our Nation's capital - the magic of the White House at this special time fills us with wonder.

This year, we wanted to transform the White House into a Winter Wonderland. We have so many fond memories of Chelsea's first winters. Through her eyes we relived the pleasure of playing in the first snowfall, the silver glint of skate blades on a frozen pond, breathless sled rides down a glistening slope and lopsided snowmen with carrots for noses, destined to melt in the morning sun. No matter what your age, nothing is more beautiful than the stillness of a starry winter evening - especially on Christmas Eve - when snow blankets the street and the world is calm and bright.

To capture these wonderful images of winter, we invited artists from across the country to craft ornaments in the spirit of the season - from miniature snowmen, to tiny skis, skates and toboggans, to colorful mittens and hats.

As you wander through this Winter Wonderland, we hope you will relive your own precious memories of the holidays. May you and your loved ones have a happy, healthy New Year, and may the joy of the season always be with you.