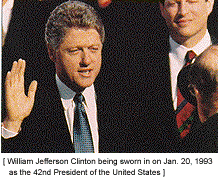 "The executive Power shall be vested in a President of the United Statesof America. He shall hold his Office during the Term of fourYears..."
"Before he enter on the Execution of his Office, he shall take thefollowing Oath or Affirmation:

'I do solemnly swear (or affirm) that I will faithfully execute theOffice of President of the United States, and will to the best of my Ability, preserve, protect and defendthe Constitution of the United States.'"

-- Article II, Section 1 of the Constitution

"The terms of the President and the Vice President shall end at noon onthe 20th of January... and the terms of their successors shall then begin."

-- 20th amendment to the Constitution - ratified January 23,1933


The 53rd Presidential Inaugural will feature a number of free, open-to-the-public events for both children and families that celebrate America's past, present, and future. The theme for this Inaugural celebration is "An American Journey: Building a Bridge to the 21st Century." These events will focus on the work to which President Clinton and Vice President Gore have dedicated their second term -- helping the American people prepare for the transition to a new century.
An American Journey

Saturday, January 18 and Sunday, January 19

Harmony in America (Saturday) and Celebrating Our Journey (Sunday) - The 53rd Presidential Inaugural invites America to the historic Mall for "An American Journey" -- a two-day celebration of America's strength, spirit, and community begins at 10:00 a.m. both days. This celebration reflects President Clinton and Vice President Gore's vision that children are the bridge to our future. To highlight their commitment to our children, a weekend has been designed that offers a variety of activities for children and their families. Families will take a musical and oratorical journey highlighting our heritage and exploring the challenges of the 21st century.

"An American Journey" will showcase a variety of music, food, interactive technology, and activities for children. In addition, Sunday's events will feature a special tribute to Dr. Martin Luther King, Jr. These all-day events on the Mall are free, open to people of all ages, and will feature nationally-known artists performing in comfortably heated pavilions on the Mall.

Saturday, January 18

Sharing the Light - Inaugural Celebration Fireworks - As the sun sets on the first day of the 53rd Presidential Inaugural, the District of Columbia will be treated to a fireworks display that the entire city will have the opportunity to enjoy. Fireworks will be launched at 6:00 p.m. from multiple sites around the District, including the Mall, making the display visible from most anywhere in the city. District residents of all ages will be in for a real treat as the Inauguration showcases America's Capital at its best. This is a free event; no tickets are necessary.

An American Gala - USAir Arena, 7:30 p.m. The technical run-through of the nationally-televised Presidential Inaugural Gala that will take place on Sunday night. A number of tickets will be made available to the public through community organizations. Attendees are asked to bring cans of food as a part of their admission to "An American Gala." The food collected will later be donated to Washington-area food banks. Some of the performers for Sunday night's gala will be present for Saturday's rehearsal.



Sunday, January 19

Celebrating the Journey - The second day of "An American Journey" on the Mall, beginning at 10:00 a.m.



Monday, January 20

Inauguration Ceremony - The 53rd Presidential Inauguration Ceremony will take place on the West Front of the United States Capitol at 11:30 a.m. with President Clinton's swearing-in set to begin at noon. The program for the Inauguration Ceremony includes an invocation from Reverend Billy Graham, musical selections from opera star Jessye Norman, the Children of the Gospel Choir, and the Immanuel Baptist Church Sanctuary Choir and Orchestra, a reading by poet Miller Williams, a benediction from Reverend Gardner Taylor, and the National Anthem sung by Santita Jackson and the Resurrection Choir. This is a free event; no tickets are necessary.

Presidential Inaugural Parade - The President and his family will make the journey from Capitol Hill to the White House after the final swearing-in ceremony of the 20th century. This year's parade will begin at 2:00 p.m., will feature floats that reflect major turning points in American history and performances by high school marching bands, equestrian groups, church choirs, and children's groups. Representatives from all 50 states, the District of Columbia, and the U.S. territories will be included in this traditional event that is a favorite for Washington, D.C.-area residents. This year, parade watchers will also enjoy a constant stream of activity as bands and entertainers perform along the parade route before and after the Inaugural procession. Tickets for reviewing stands are for sale by invitation only. Other viewing areas and standing room open to the public.

Inaugural Balls - Tickets were for sale by invitation only. The Inaugural Committee announced on Wednesday that unsold tickets are now available for sale to the general public until Saturday, January 11. To purchase tickets please call:

1-888-888-1997




---
President and First Lady | Vice President and Mrs. Gore
Record of Progress | The Briefing Room
Gateway to Government | Contacting the White House
White House for Kids | White House History
White House Tours | Help | Text Only