Art for the President's House--An Historical Perspective
With McKinley's assassination at the Pan-American Exposition in Buffalo, New York, Vice President Theodore Roosevelt took the oath of office. The White House, now more than a hundred years old, entered a new era with the Roosevelts, who loved the residence for its many associations. As the President once responded when asked whether the Executive Mansion should be abandoned to office space: "Mrs. Roosevelt and I are firmly of the opinion that the President should live nowhere else than in the historic White House." Historicism once again became the dominant ideal for the State Rooms.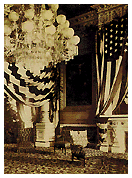 During the Roosevelts' tenure, in 1902, the prestigious firm of McKim, Mead, & White began extensive renovations by sweeping away the exuberant Victorian decorations--by then seen as free-wheeling incongruities--and returning the mansion to a simpler, if equally stately, neoclassicism. (At left is the East Room prior to the 1902 renovations.)

The Ground Floor Corridor and the rooms opening off it had been used as a behind-the-scenes work area for years. As early as the Lincoln Administration an aide had complained that the White House basement reminded him of "something you have smelled in the edge of some swamp." Now the elegant vaulted ceiling originally designed by James Hoban was restored, transforming the Corridor into a gallery for the First Ladies' portraits that had been collected at the end of the 19th century. Mrs. Roosevelt wrote to McKim:

The President and I have consulted, and we hope it is possible for you to put all the ladies of the White House, including myself, in the downstairs corridor that the dressing rooms open on; also the busts. It could then be called the picture gallery, and you know a name goes a long way. I am afraid the Presidents will still have to hang in the red and green rooms, and I suppose Washington and Mrs. Washington and Lincoln must remain as before, in the east room.



---



---
President and First Lady | Vice President and Mrs. Gore
Record of Progress | The Briefing Room
Gateway to Government | Contacting the White House
White House for Kids | White House History
White House Tours | Help | Text Only