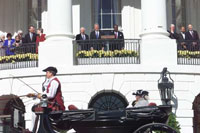 President Clinton and guests watch a reenactment of President John Adams' arrival at the White House by horse and carriage in honor of the 200th anniversary of President Adams first arrival here on November 1, 1800.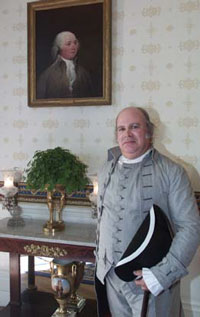 To honor President John Adams's arrival at the White House 200 years ago, President Adams is portrayed for today's reenactment ceremony by Steven Perlman of Philadelphia. He is posing here in front of President Adams's portrait in the Blue Room.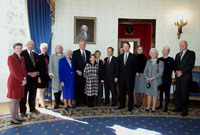 Descendants of President John Adams's family pose with President Clinton and President John Adams's portrayer beneath the portrait of President Adams in the Blue Room of the White House. It was 200 years ago that President John Adams took up residence in the White House, the first President to do so.