Being President involves a great deal of travel, both within the United States and around the world. And because America's President serves not only as our Nation's Head of State, but also as Commander in Chief, he has many special travel needs. Has the President ever visited your community? If so, he arrived with the help of several members of the Armed Forces who, under the direction of the White House Military Office, helped to make the journey a safe one.

The Flying White House -- Air Force One

The name Air Force One does not belong to any specific aircraft, but instead is the radio call sign used when the President is aboard any United States Air Force plane. Currently, the Air Force provides two Boeing 747-200Bs for presidential use, both adapted to meet the President's unique needs and to make him as safe and comfortable as possible during flight.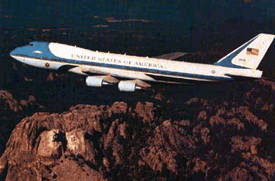 Air Force One flies over Mount Rushmore.
So that the President can fulfill his duties as Commander in Chief, the airplanes have state-of-the-art communications equipment on board, including secure voice terminals and cryptographic equipment for writing and deciphering classified messages. More than 238 miles of electrical wiring (1,260,000 feet) wind through each craft -- more than twice the wiring found on an ordinary 747!

The 4,000 square feet of floor space inside Air Force One provide room for a presidential stateroom, an executive dressing room and shower, a conference/dining room, two fully equipped kitchens, a presidential office, a medical treatment room, secretarial offices, six lavatories, and 84 telephones.

The first presidential airplane was used by Franklin Delano Roosevelt. Nicknamed "The Flying Hotel," it was a Boeing 314 Clipper, the largest aircraft of its time, boasting a wingspan of 152 feet. The first presidential jet aircraft, a Boeing 707, was presented to the Smithsonian Institution after its retirement in 1972. Our two most recent Presidents -- George Bush and Bill Clinton -- have flown on Boeing 747s.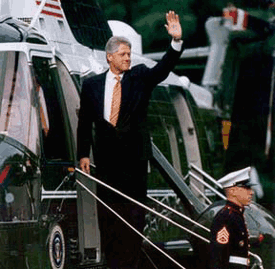 President Clinton waves to the crowd as he prepares to board Marine One.
In September 1957, Dwight D. Eisenhower began presidential helicopter travel when he flew from his vacation home in Newport, Rhode Island, to Naval Air Station Quonset Point. Today, the United States Marine Corps provides helicopter transportation for the President and the Vice President, as well as for Cabinet members and foreign dignitaries. Marine Helicopter Squadron One (HMX-1) also serves the President during overseas visits and has operated in more than 32 foreign countries. Presidential helicopters have landed at such distant places as England's Windsor Castle, Akasaka Palace in Tokyo, Bolivar Square in Bogota, Colombia, and the Demilitarized Zone of South Korea.

Like Air Force One, Marine One is a radio call sign used when the President is aboard a Marine Corps helicopter. The helicopter used most often is the Sikorsky VH-3D, a special helicopter designed for presidential flights. With a cruise speed of 110 knots (131 mph) and a range of 450 nautical miles, it is a versatile and reliable means of transportation for the Commander in Chief. Before every departure, Marine One is carefully checked, and the Presidential Seal is placed on the side of the aircraft.