Welcome to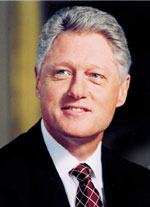 the spring 2000 issue of Inside the White House, a newsletter designed to introduce you to some of the interesting people, places, and events in our nation's capital. This issue will answer your questions regarding the fascinating and thought-provoking correspondence citizens young and old send to the President.
When I became President in 1993, I was overwhelmed by the number of letters I received. On one day alone in March 1993, I received 301,304 letters! Just imagine how long it would take you to read that much mail. I knew then that it would take a very special group of people to help me stay in touch with all of these citizens. In the following pages, you will learn about some of these staff members, their predecessors, and the many ways in which Americans have corresponded with their Presidents throughout history.
During my time here at the White House, I have enjoyed all of the cards, letters, e-mail messages, drawings, photographs, handmade gifts, and school projects that young people all over the globe have sent to me. I have learned much about the thoughts and concerns you have for our country, and I encourage you to stay involved.