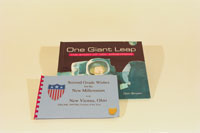 Ohio New Vienna Elementary School, New Vienna
"The State of Ohio and New Vienna Elementary School wish peace and goodwill to all people in the world on the beginning of the twenty-first century and throughout the new millennium. As the 1999 Ohio Teacher of the Year, my hopes and dreams for the future rest in the caring hands of my students and children all over our great country. Education opens the door to the future by igniting dreams and inviting challenges. The children in my second grade class have many dreams and wishes for the next century and the years beyond. They have written them on the enclosed papers. The students also wished for this book, One Giant Leap, The Story of Neil Armstrong, by Don Brown, to be enclosed in the Tim Capsule. We love this book because it is about a young boy from a small town in Ohio who has a dream of flying. It is a story of our past and future. It is a symbol of our town, our state, and our great nation where the dreams of each person can be realized. When a nation values education and the gifts of each child, it is destined to remain strong, proud, and free. Best wishes for the Year 2000 and beyond, Ellen Hill, 1999 Ohio Teacher of the Year."

The students included for the Time Capsule a bound book that has each of their personal statements for their hopes and dreams, entitled, "Second Grade Wishes for the New Millennium from New Vienna, Ohio." Attached to the spirally bound book of hopes and dreams is a pin bearing the image of the State of Ohio with the state motto, "The Heart Of It All." Within the book, One Giant Leap, the students each signed their own name and enclosed a copy of a class photo outside of their school with their teacher.