The China Room
Welcome to the China Room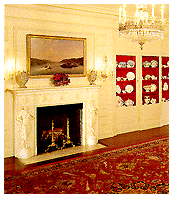 The "Presidential Collection Room", now the China Room, was designated by Mrs. Woodrow Wilson in 1917 to display the growing collection of White House china. The room was redecorated in 1970, retaining the traditional red color scheme determined by the portrait of Mrs. Calvin Coolidge--painted by Howard Chandler Christy in 1924. President Coolidge, who was scheduled to sit for Christy, was too occupied that day with events concerning the Teapot Dome oil scandal. So the President postponed his appointment, and Mrs. Coolidge posed instead.
The red theme continues in the red velvet-lined cabinets, silk taffeta draperies and the early 20th-century Indo-Ispahan rug. The cut glass chandelier, made about 1800, is in the English Regency style. Flanking the portrait of Mrs. Coolidge are Chippendale sidechairs used by President George Washington in the earlier presidential residences in New York and Philadelphia. The painting above the mantel, "View on the Mississippi Fifty-Seven Miles Below St. Anthony Falls, Minneapolis", was completed by Ferdinand Richardt in 1858--the year Minnesota achieved statehood.
Almost every past President is represented in the China Room either by state or family china or glassware. The collection is arranged chronologically, beginning to the right of the fireplace. Even the earliest Presidents received government funds to purchase state china. However, by a special clause in the appropriation bills, "decayed furnishings" could be sold and the proceeds used to buy replacements. Such "furnishings" included state china, and during the 19th century the cupboards were frequently swept clean and the contents carted off to auction. The money could then be used to order a new china service that better suited the President and his family.
An array of presidential china is on display in the China Room.
---
President and First Lady | Vice President and Mrs. Gore
Record of Progress | The Briefing Room
Gateway to Government | Contacting the White House | White House for Kids
White House History | White House Tours | Help
Privacy Statement