The Map Room
Welcome to the Map Room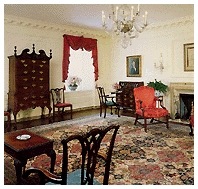 The Map Room, used by President Franklin D. Roosevelt as a situation room from which to follow the course of World War II, now serves as a private meeting room for the President or the First Lady. It was decorated in 1970, and again in 1994, as a sitting room in the Chippendale style, which flourished in America during the last half of the 18th century.
Named after the English furniture designer Thomas Chippendale, this style combines the graceful lines of Queen Anne furniture with carved motifs in more elaborate rococo, Gothic, and Chinese styles. The handsome, walnut high chest of drawers on the south wall was made in Philadelphia about 1770 and has shell carvings on its pediment and apron and the knees of its cabriole legs. The side chairs that flank the high chest, from a set of four and an armchair, were made about 1770 in Philadelphia, possibly by Thomas Affleck. Attributed to the same cabinetmaker is the mahogany easy chair with square, upholstered back.
The simple sandstone mantel was made from stone removed during the Truman renovation of the White House. Above it hangs the last situation map prepared in this room for President Roosevelt, on April 3, 1945. To the right of the fireplace is a chest of drawers with a serpentine front made in Philadelphia about 1765. On it rests a medicine chest that is believed to have belonged to President and Mrs. James Madison, and to have been taken from the White House just before the building was burned during the War of 1812.
A rare 1755 French version of a map charted by colonial surveyors Joshua Fry and Peter Jefferson (Thomas Jefferson's father) hangs on the east wall, covering a case of world maps presented by the National Geographic Society.
---
---
President and First Lady | Vice President and Mrs. Gore
Record of Progress | The Briefing Room
Gateway to Government | Contacting the White House | White House for Kids
White House History | White House Tours | Help
Privacy Statement