The Vermeil Room
Welcome to the Vermeil Room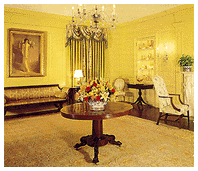 The Vermeil Room, sometimes called the Gold Room, was last refurbished in 1991; it serves as a display room and, for formal occasions, as a ladies sitting room. The soft yellow of the paneled walls complements the collection of vermeil, or gilded silver, bequeathed to the White House in 1956 by Mrs. Margaret Thompson Biddle.
The vermeil collection contains pieces from different services and includes the work of English Regency silversmith Paul Storr (1771-1844), the French Empire silversmith Jean-Baptiste-Claude Odiot (1763-1850), and Philip Rundell of London, who crafted the vermeil wine cooler at the right. The cooler has as its handles classical figures reaching for grapes from an arbor.

The green silk draperies are of early 19th-century design. The carpet is a Turkish Hereke of about 1860, chosen for its pale green background and gold silk highlights. In the center of the room stands a circular mahogany table made in the Empire revival style later in the 19th century. Its tilt top is veneered in 12 wedge-shaped sections, each inlaid with a brass star. Hanging above it is a cut-glass chandelier with ten arms, which was made in England about 1785.
Portraits of six First Ladies are exhibited in the Vermeil Room.
Against the south wall is a New York sofa circa 1815 attributed to the workshop of Duncan Phyfe. It has scrolled ends and a reeded frame. On either side stand Boston work tables made in the early 1800's and thought to be the work of either John or Thomas Seymour. Although not a pair, each has two drawers and a sewing-bag slide.
Placed along the north wall is a classical mahogany pier table with a marble top and gilded bronze caryatid heads and feet on reeded supports. It was made about 1805 in New York and is one of two tables in the room that bear the label of New York cabinetmaker Charles-Honore Lannuier.
---
President and First Lady | Vice President and Mrs. Gore
Record of Progress | The Briefing Room
Gateway to Government | Contacting the White House | White House for Kids
White House History | White House Tours | Help
Privacy Statement