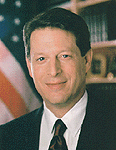 Al Gore is the 45th Vice President of the United States. He was born on March 31, 1948. His father, Albert Gore, Sr., was a congressman from Tennessee. When young Al was four years old, his father was elected to the United States Senate.
As he was growing up, Al Gore spent his summers and vacations on his family's farm in Tennessee. There, he did daily chores, fed the farm animals, and played with his friends. During the rest of the year his family lived in Washington, D.C., where he attended St. Albans Episcopal School for Boys. There, he played basketball and football and ran track. It was at a school dance that he met Mary Elizabeth "Tipper" Aitcheson, whom he would one day marry.
When he was only 28, Al Gore was elected to the U.S. House of Representatives, and eight years later he was elected to the Senate. As a Senator, he was a big supporter of environmental protection, and he worked to establish April 22 as Earth Day.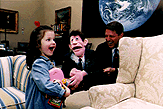 Vice President Gore and his wife Tipper have four children: Karenna, born in 1973; Kristin, born in 1977; Sarah, born in 1979; and Albert III, born in 1982. They also have two dogs, a black Labrador retriever named Shiloh, and a white poodle named Coconut. In his spare time, the Vice President likes to jog and play basketball. His favorite subjects in school were math and science, and his favorite past President is Thomas Jefferson.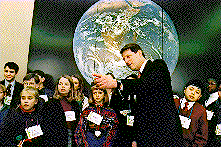 The Vice President has written a book called Earth in the Balance: Ecology and the Human Spirit. It is about the environment and how we can work to protect it. Vice President Gore believes that everyone has a responsibility to help protect and preserve our environment. He wants us to recycle, reduce pollution, and use energy efficiently.
The Vice President travels all over the world, meeting people and listening to their concerns. He wants all young people to know that he and President Clinton are working hard to make your future the best it can possibly be.
---
President and First Lady | Vice President and Mrs. Gore
Record of Progress | The Briefing Room
Gateway to Government | Contacting the White House
White House for Kids | White House History
White House Tours | Help | Text Only