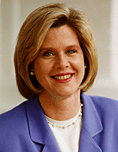 Mary Elizabeth "Tipper" Gore was born on August 19, 1948 in Washington, D.C. Her mother nicknamed her "Tipper" after a favorite lullaby.
She grew up in Arlington, Virginia. As a child, Tipper was a Girl Scout who loved to climb trees and play in her neighbor's tree house. She has always loved animals and had many pets as a child, including a parakeet and a tree frog. She also loved to collect tadpoles from a creek by her home. Her pets today are a black labrador dog named Shiloh and a mixed breed dog named Daisy that her children found by a river in Tennessee.

Tipper's favorite subject in school was history. She loved to read and established a book club with her friends. They would pool their books and check them out, much like a library. She was also very involved in school sports. She and her badminton partner were champions of the school! The all-girl school she attended would often divide the school into two teams in order to be able to play team sports like softball, basketball and field hockey. Tipper was voted captain of the school's "gold" team.
Tipper loved music and played the drums in a band called the Wildcats when she was in high school. One night, while attending a high school dance, she met a young man named Al Gore. They were married in 1970 and have raised four children.
As the wife of the Vice President, Tipper travels all across the country, speaking to millions of people about issues that are important to her and to our country, such as homelessness and mental health. She volunteers her time at shelters in Washington and founded a group called Families for the Homeless. She also enjoys being a photographer and has used photography to illustrate some of these issues. Her love of sports is still a big part of her life. She loves jogging, hiking, canoeing, skiing, and rollerblading with her family. In 1998, she led the American delegation to the U.S. Winter Olympics in Nagano to cheer on our American athletes.
In her travels, she loves to meet people, especially children. Here are some of the photos of children she has met in the United States and around the world.




---
President and First Lady | Vice President and Mrs. Gore
Record of Progress | The Briefing Room
Gateway to Government | Contacting the White House
White House for Kids | White House History
White House Tours | Help | Text Only