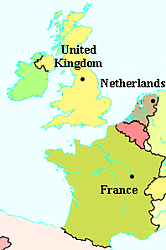 On this beautiful spring day in Paris, in the twilight of the 20th century, we look toward a new century with a new Russia and a new NATO, working together in a new Europe of unlimited possibility. The NATO-Russia Founding Act we have just signed joins a great nation and history's most successful alliance in common cause for a long-sought but never before realized goal --a peaceful, democratic, undivided Europe.
President William Clinton
NATO-Russia Founding Act Signing
May 27, 1997
On Monday, May 26, President Clinton departed on a historic four-day trip to France, the Netherlands and England. The trip consists of three distinct and complementary parts: the historic signing of the NATO-Russia Founding Act in Paris, the commemoration of the 50th anniversary of the Marshall Plan in the Hague, and President Clinton's first official visit with newly elected British Prime Minister Tony Blair. Together, these events highlight the progress that the transatlantic community has made towards the President's vision of an undivided, democratic and peaceful European continent, and reinforce the President's commitment to keeping the United States engaged in Europe to promote security and prosperity on both sides of the Atlantic. Visit this site during the week for regular trip updates, including briefings, remarks and event information.