Photo Gallery
November 1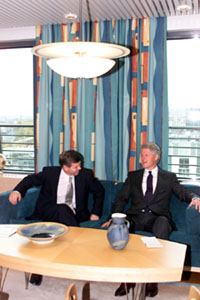 Photo by Sharon Farmer
President Clinton meets with Norwegian Prime Minister Kjell Magne Bondevik at the Prime Minister's Office in Oslo.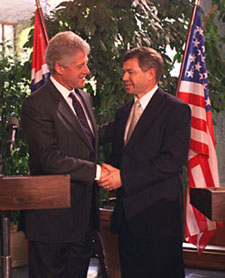 Photo by Ralph Alswang
The President and the Prime Minister finish a joint news conference at Government House.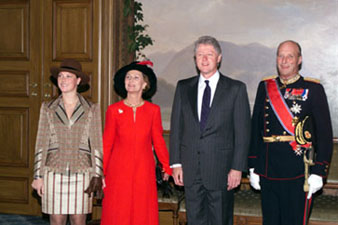 Photo by Sharon Farmer
President Clinton with the royal family prior to an official lunch hosted by Norwegian King Harald V at the Royal Palace.
---
President and First Lady | Vice President and Mrs. Gore
Record of Progress | The Briefing Room
Gateway to Government | Contacting the White House
White House for Kids | White House History
White House Tours | Help | Text Only
The President's Trip to Oslo, Norway - Photo Gallery, November 1, Page 1
The President's Trip to Oslo, Norway - Photo Gallery, November 1, Page 2
The President's Trip to Oslo, Norway - Photo Gallery, November 2, Page 1
The President's Trip to Oslo, Norway - Photo Gallery, November 2, Page 2
The President's Trip to Oslo, Norway - Photo Gallery, November 2, Page 3