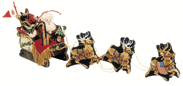 Our journey begins at the East Entrance, where Santa's bag is nestled aboard an antique sleigh, laden with ornaments from the decorative themes of each delightful year. Handcrafted angels, a partridge in a pear tree and historical dolls spill from Santa's sleigh, while nutcrackers and snowmen stand guard. Branches of a festive Christmas tree are trimmed with needlepoint ornaments that have been carefully stitched with interpretations of our past holiday themes. Some of the wonderful "kissing balls " that have graced the Grand Foyer over the years — created for the White House by master needlepoint artist Hyla Hurley and painter Gail Hendrix — complete the bundle of treasures aboard the sleigh.

Continuing down the East Colonnade, you will see holiday wreaths in the windows laced with white birch branches, icicles and holly. In the center of each wreath hangs a handcrafted ornament representing one of our holiday themes. Just outside the colonnade windows is the Sculpture Garden, with features a magnificent, one-of-a-kind glass sculpture that Seattle glass artist Dale Chihuly created for the White House in commemoration of the new millennium.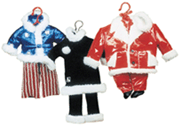 The tree in the East Foyer boasts miniature Santa suits tailored by well-known fashion designers and toys handcrafted by wood artists from across our Nation. These clever ornaments helped bring to life Santa's Workshop, which was our holiday theme in 1997. Next to the tree is an exhibit of official White House Christmas cards dating back to the Eisenhower Administration. The display highlights Ray Ellis' original watercolor, The Yellow Oval Room, First Family Residence, The White House, 2000, which he created for our official holiday card. We are pleaded to share with you a personal view of the President's Residence, the last in a series of holiday renderings created by American Artists: Neal Slavin, Thomas McKnight, Kay Jackson and Ray Ellis.