Holiday Tour: The State Dining Room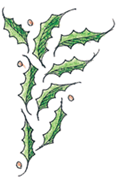 Some of our most cherished memories are set in the elegant State Dining Room, where we have spent countless hours entertaining family, friends, special guests and heads of state from all corners of the world. George P.A. Healy's famous portrait of Abraham Lincoln hangs above the marble mantel, surrounded by festive fruits, nuts, pine cones and rich burgundy ribbons. During the holidays, we love to decorate the State Dining Room table with one of the most significant pieces in the White House collection — the Monroe plateau. The gilded plateau was purchased by President Monroe in France in 1817 and had been proudly displayed ever since.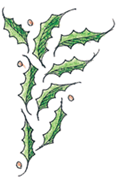 Holidays at the White House would not be complete without the traditional gingerbread house created by Chef Roland Mesnier and the White House pastry chefs. This year, Chef Mesnier had crafted depictions of the State Dining Room, blue Room and East Room — all decorated with themes of our past holiday seasons. This entirely edible work of art incorporates miniature replicas of his last seven gingerbread houses.

Holiday Tour at the White House, 2000
The State Dining Room
---
President and First Lady | Vice President and Mrs. Gore
Record of Progress | The Briefing Room
Gateway to Government | Contacting the White House | White House for Kids
White House History | White House Tours | Help
Privacy Statement